SIGNS OF ORGANIC PRODUCTION OF THE EUROPEAN UNION
The main purpose of the European organic label is to make it easier for consumers to identify organic products. For labeling purposes, the EU organic production mark will be used only if the relevant product has been produced in accordance with the requirements of European legislation by entrepreneurs who comply with the requirements of the control system in the organic sector. The European Union brand will not be used in products and foodstuffs produced during the transition to organic production.
The EU organic production mark is shown by the following model: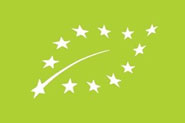 According to the Pantone color model, the reference color is Pantone ? 376 Green, and if a four color process is used, it is Green (50% Cyan +100% Yellow).

The EU organic production mark can also be used as a black and white image, as shown, only in cases where it is not possible to use it in color: